Explore Pass
Join the Adventure!
Save up to 50% on local vendors. Choose the activity of your choice and present your pass. Support local and enjoy the adventure. Find out more.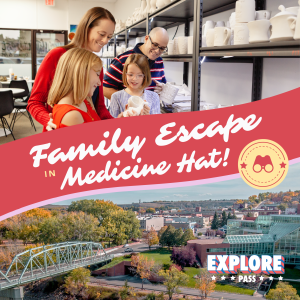 Prairie travellers deserve a little adventure now and then.
Explore Pass is a network of the best attractions, restaurants and much more in cities across the prairies. We connect local tourists with local businesses. We believe in the power of supporting local and showing off what our province has to offer.
Sound like something you'd like to be a part of? Visit www.explorepass.ca/partner-page to join our free network of 50+ businesses.
Connect with new customers as they explore Medicine Hat!
-----------------------------------------------------------------------------------------------------
Be sure to share your experiences with the Explore Pass through social
#explorepass #d3h #d3hhotels #homehotels #skstaycation #d3hdaysinn #prairieescape #supportlocal #exploresk #tourismsask #localvalue #explorelocal #saskatoon #regina #yorkton #swiftcurrent #saskatchewan
Images
Additional Info
Expiration Date : 6/1/2022