Medicine Hat & District Chamber Launches 2021 Downtown Midnight Madness with Downtown Collective Stakeholders
For media inquires please contact 403-527-5214 ext. 225 or communications@medicinehatchamber.com
Medicine Hat & District Chamber Launches 2021 Downtown Midnight Madness with Downtown Collective Stakeholders
The Medicine Hat & District Chamber of Commerce, in partnership with a downtown collective group of stakeholders, is pleased to launch Midnight Madness for 2021, taking place November 19 from 4:00 pm to 12:00 midnight.
"Our downtown has stood the test of time and holds immense history and value. It represents a truly unique and iconic development area for economic and social activity. It has the ability, as been demonstrated in the past, to create a critical mass of commercial, cultural and community activities." stated Chamber of Commerce President Marcus Campbell. "We are pleased to be able to assist downtown stakeholders in an initiative that will bring greater awareness to downtown by facilitating the launch of Midnight Madness for 2021".
The local Chamber will be contributing funds from the Shop Local funding announced in June of this year, which is part of a total envelope of $7.2 million set aside for the prairie provinces through the Ministry Small Business, Export Promotion and International Trade of Canada with $4.95 million allocated for Alberta. The Medicine Hat & District Chamber of Commerce successfully applied through the first round of the $1.2 million in funding distributed through local Chambers across the province. The Medicine Hat & District Chamber of Commerce is using its share of shop local funding to focus on promoting the local first message and encouraging people to support local and shop local while also looking to promote local food, food sustainability and local agriculture, expanding on efforts to encourage patronage of the business community.
"Downtown is comprised of a collective group of downtown stakeholders, each demonstrating a passion, commitment and investment in the downtown core," stated Chamber Executive Director Lisa Kowalchuk. "We were pleased that stakeholders reached out to us to see how we could further their collective efforts and amplify their voice and message. We had the ability to designate a portion of Shop Local grant funds geared towards promoting our downtown, and a portion of those funds are specifically targeted to promote Midnight Madness for downtown". 
The Medicine Hat & District Chamber of Commerce has focused its share of funding on reinvesting back into the business community to support business and promote and encourage the local first message. They will also be working with other partners, including Pattison Media, several downtown stakeholders and community sponsors to bring this event to Medicine Hat again for 2021.
"We truly believe that a strong downtown core is vital to fuelling our business community. We believe that this event furthers our community's connection to our downtown and has been an essential part of the holiday shopping season," further commented Campbell. "This event connects perfectly into our continued efforts to further our local first message and the shop local efforts for our region. We look forward to seeing everyone out that evening to support the positive impact that this event has on all of our downtown businesses".
Midnight Madness is a yearly event that usually takes place a week before Black Friday to encourage people to shop early and support the local shops and owners within the downtown core.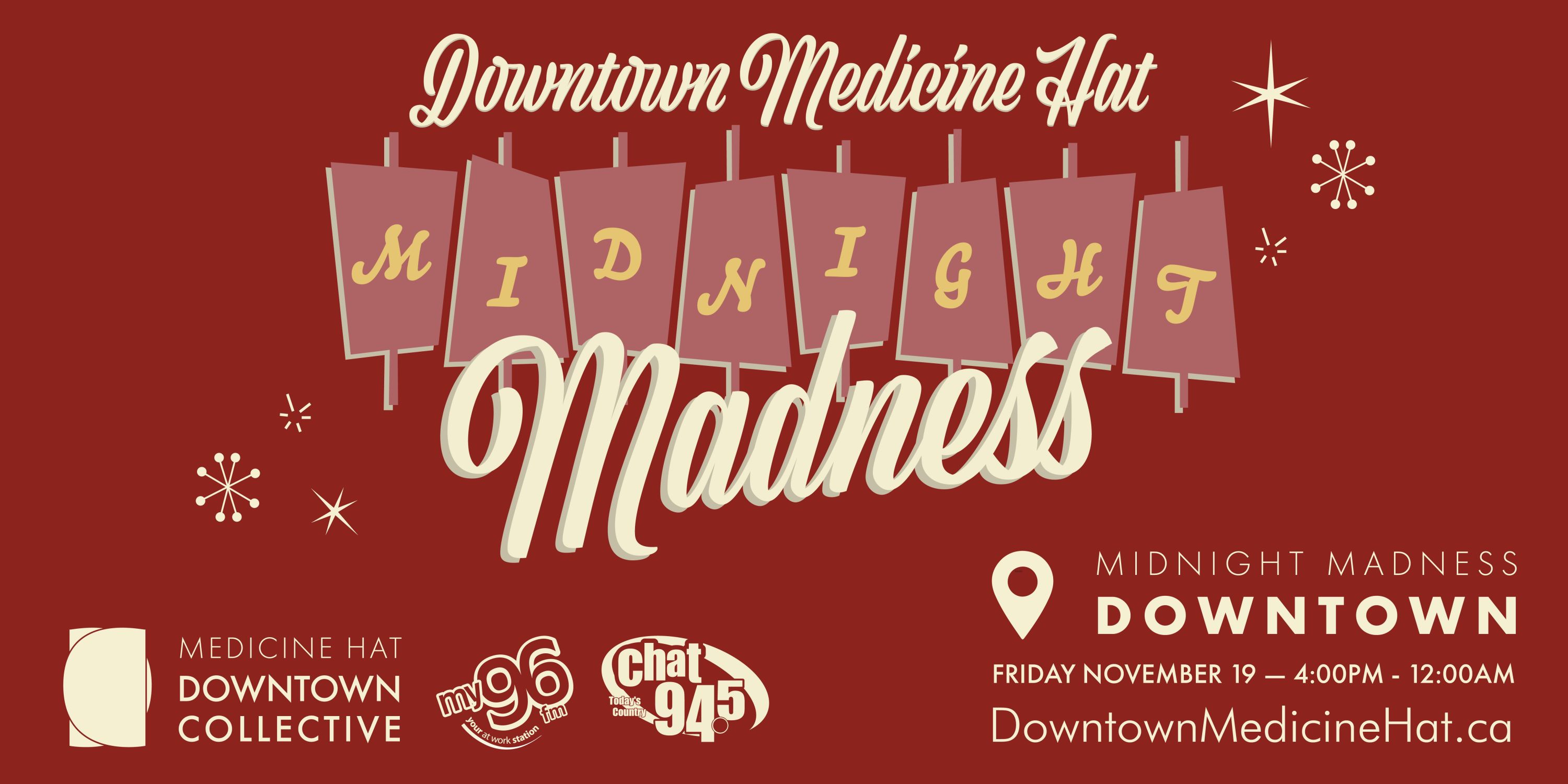 Please direct all media inquiries to:
Marcus Campbell, President
c/o Medicine Hat & District Chamber of Commerce
(403) 527-5214 ext.225
The Chamber of Commerce is a grassroots not-for-profit business network built by business for business. For more than 120 years, the Chamber has been a champion for business and an essential source of information and solutions, helping build the businesses that support our families and our communities. The Chamber exists to serve the needs of every business in our region, strengthening our community as a catalyst for growth, uniting business, driving leadership and fuelling success through our connections, support and influence.
The Chamber represents over 900 businesses in our region and is aligned with both the Alberta Chambers of Commerce (ACC), which represents over 24,000 businesses and the Canadian Chambers of Commerce (CCC), which represents over 200,000 businesses. With the largest and most influential business organizations locally, provincially and federally, the Chamber network is the most unified, valued and influential business network in Canada and works together to shape policy and programs that will make a difference to businesses in our region.