Chamber Announces 2021 Business Awards Event Format Change and Virtual Tickets on Sale!
For media inquires please contact 403-527-5214 ext. 225 or communications@medicinehatchamber.com
Chamber Announces 2021 Business Awards Event Format Change and Virtual Tickets on Sale!
Event Format Change and Virtual Tickets on Sale - 2021 Celebrating the Hero within Business Awards
Held during National Small Business Week, which runs from October 17 - 23, the annual awards provide an opportunity for Medicine Hat and Southeast Alberta to recognize the outstanding achievements of our business community. The 2021 Business Awards has transitioned to a fully virtual event and virtual event tickets are available!
"Celebrating the Hero Within" was chosen as this year's theme to celebrate the business heroes that walk among us every day. Over the past year, everyday heroes protected our community, using strength and resilience to fuel their actions. Those heroes showed their superpowers of resilience, kindness, generosity, adaptability, and leadership when faced with challenges and unforeseen circumstances.
This year the Chamber will be hosting the Business Awards through the Remo platform with the generous support of APEX Alberta. Attendees will be required to register individually with a valid email so they may receive event updates and event access directly.
Upon registration, attendees will have the opportunity to take advantage of some great offers from our local participating restaurants to add to your evening celebration. This year's participating restaurants include Izote Latin Cocina, MH Brewing Company, Redcliff Bakery, Skinny's Smokehouse, The Copper Leaf Café, and the Keg.
The event will open at 5:30 pm, where individuals can navigate the virtual event lobby, join different tables, and network with other attendees. At 6:00 pm guests will be notified of when the Award Ceremony will premiere. Once the ceremony has concluded, guests are welcome to stay with us for some additional networking opportunities.
Save Friday, October 22nd in your calendar and register today: https://bit.ly/3iIMCiZ, save Friday, October 22nd in your calendar and join us as we celebrate the everyday heroes within our business community and be inspired to discover the hero in all of us.
This event would not be possible without the support of our sponsors, including Brightan Financial Strategies Inc. (Chamber Partner Sponsor), Pattison Media Ltd. (Award Ceremony Sponsor), TD Canada Trust (Banquet Sponsor), Canadian Natural Resources Limited (Entertainment Sponsor), APEX Alberta (Technology Sponsor), Auto-Star Compusystems Inc (Premiere Sponsor), Methanex Corporation (Premiere Sponsor), and award sponsors (listed below).
Business Ethics – sponsored by BBB serving Southern Alberta and East Kootenays
Community Attraction – sponsored by Medicine Hat Accommodation Association
Community Involvement – sponsored by Grant Thornton
Customer Service – sponsored by CIBC Commercial Banking & CIBC Wood Gundy
Diversity – sponsored by CORE Association
Global Growth – sponsored by South Country Co-op Limited - Food, Gas & Agro
Large Business of the Year – sponsored by QinetiQ Target Systems
Leading Edge – sponsored by Terralta Inc. + AirTech
Marketing – sponsored by SHAC Solutions
Mentorship – sponsored by Pritchard & Co. Law Firm LLP
New Business of The Year – sponsored by JMH & Co. Professional Corporation
Small Business of the Year – sponsored by BDC
Young Entrepreneur – sponsored by Medicine Hat College
A total of 14 awards, including the prestigious Award of Excellence, will be presented at the 21st annual Business Awards on October 22nd Additionally, our local categories align with the Alberta Business Awards of Distinction, our local nominees are submitted by the Medicine Hat & District Chamber of Commerce for recognition at this prestigious provincial awards ceremony.
If you or your business are interested in partnering to celebrate the business heroes in our community, please reach out to events@medicinehatchamber.com to discuss sponsorship opportunities.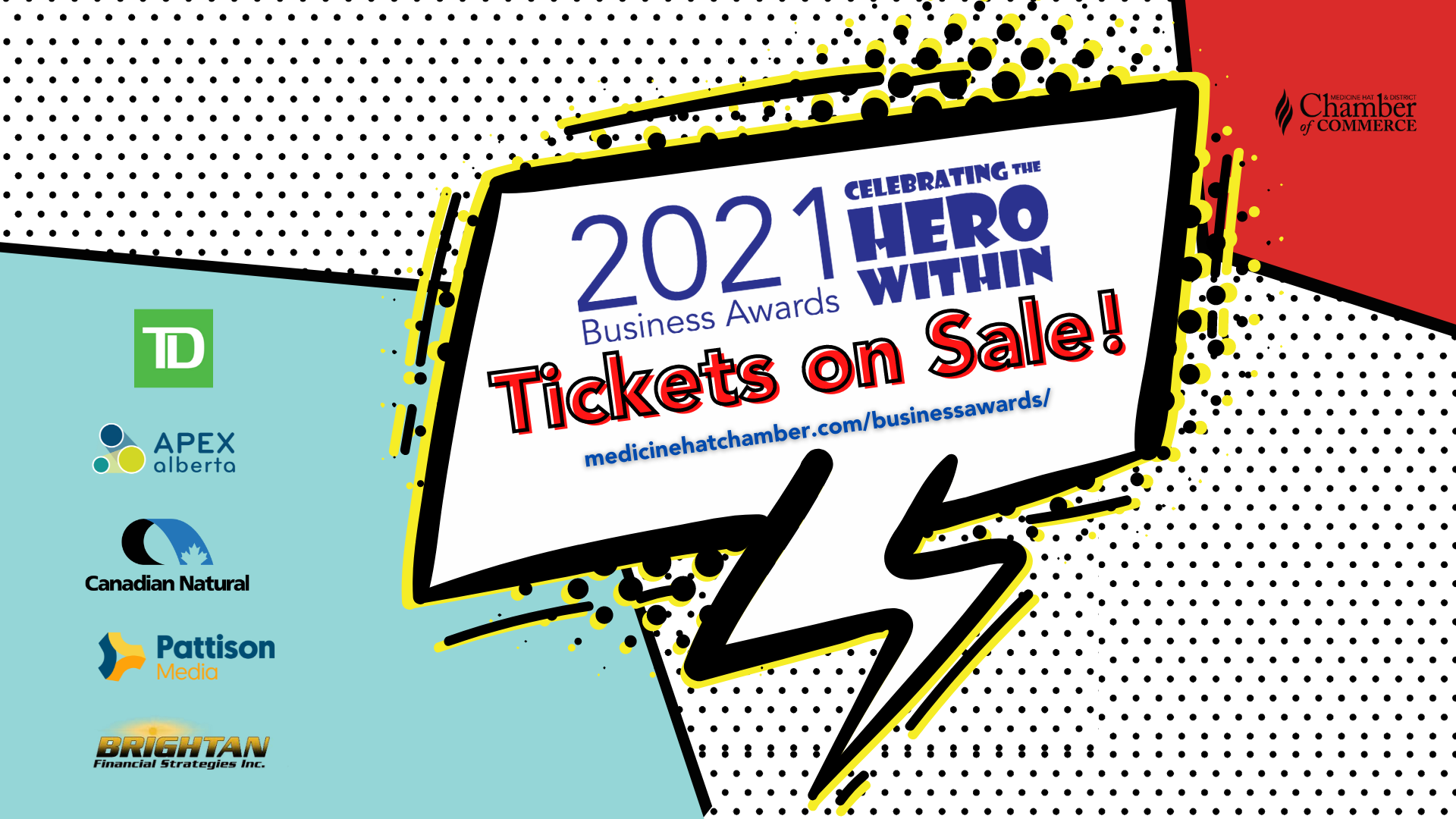 Please direct all media inquiries to:
Marcus Campbell, President
c/o Medicine Hat & District Chamber of Commerce
(403) 527-5214 ext.225
The Chamber of Commerce is a member-driven, volunteer-led organization, proudly representing the interests of businesses in our region, and working diligently to stimulate a strengthened and vibrant economy through our connections, support and influence. For more than 115 years, the Chamber has stood for promoting business, monitoring government and championing managed growth in the local economy. The Chamber represents over 800 businesses in our region and is aligned with both the Alberta Chambers of Commerce (ACC), which represents over 25,000 businesses and the Canadian Chambers of Commerce (CCC), which represents over 200,000 businesses. With the largest and most influential business organizations locally, provincially and federally, the Chamber network is the most unified, valued and influential business network in Canada and works together to shape policy and programs that will make a difference to businesses in our region.